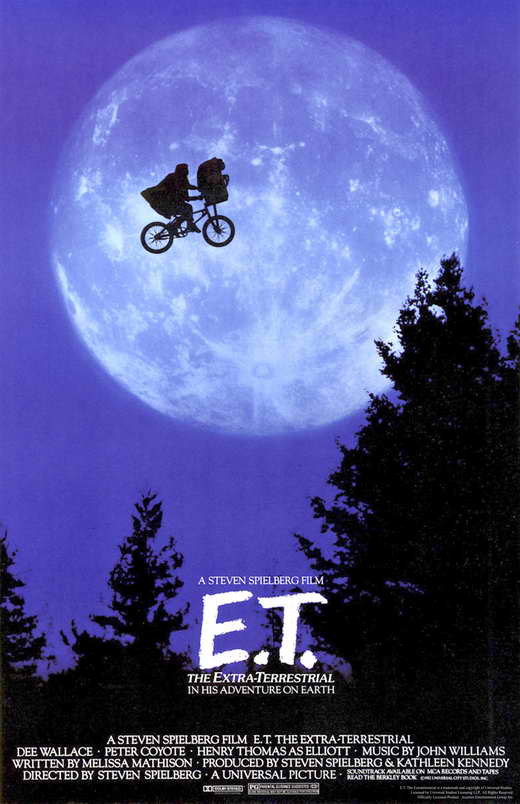 Fig. 1: E.T. poster.
Steven Spielberg's E.T. The Extra-Terrestrial is remembered by many as a film they watched as a child;
"
"E.T. The Extra-Terrestrial" is a movie like "The Wizard of Oz," that you can grow up with and grow old with, and it won't let you down.
" (Ebert, 2002)
. It tells the story of a young boy named Elliot, who is struggling with the aftermath of his parents divorce. Elliot comes across an alien he later names E.T., who was left behind when their people were forced to quickly leave Earth without them. Elliot and E.T. form a bond quickly, with the later discovery that Elliot can feel what E.T. is feeling. The music was composed by John Williams, who has collaborated with Spielberg on many of his films, and is also well known for composing the score for
Star Wars
and the first three
Harry Potter
films. E.T. won several awards for it's score, which is no surprise, considering John Williams' incredible talent for making music that seems to affect the very soul of its audience.
Fig. 2: Family dinner.
The divorce of Elliot's parents plays a major role in the way the film is captured. For a large portion of the film, we never see a man's face. Almost all shots of male characters are from the waist up, from the man with the jangling keys to Elliot's school teacher, representing the lack of male figure in Elliot's life. Elliot is also very quick to declare E.T. is male, though at this point in the film E.T. has not learned to talk, and therefore has no way of communicating this to Elliot. In divorce therapy for children, an often used practice is to give the child a pet or toy that they can take care of, in order to redirect their attention towards something they can love and care for. Elliot and his sibling's attachment to E.T. and efforts to look after them distract the children from thinking about their father, who is not mentioned after they find E.T., until Elliot and his brother, Michael, find one of their dad's old shirts in the garage, and then again even later when Elliot's mother is talking to a police officer about his disappearance. "
''E.T.'' is a slick, spirited comedy about children's coping in a world where adults have grown up and away from innocence." (Canby, 1982).
Fig. 3: Goodbyes.
Elliot also doesn't want E.T. to leave, saying that E.T. should stay, they would be happy together, and Elliot would take care of them. When E.T. finally leaves (fig. 3), they reassure Elliot that they'll "be right here", while pointing to Elliot's head. E.T. is very much the story of a child dealing with his parents divorce, something personal to Steven Spielberg; "
it was a decade after its release before he admitted that his enchanting tale of an alien stranded in suburbia is really about his parents' divorce...
No filmmaker could have placed a science fiction adventure so convincingly in an everyday domestic setting, where the cheerful chaos is overshadowed by the recent departure of the man of the house
." (Lee, 2014).
Fig. 4: E.T. dressed up.
The design of E.T. is strange, yet endearing; "With its odd little walk, its high-pitched squeals of surprise, its tentative imitations of human speech, and its catlike but definitely alien purring" (Ebert, 2002)
. They are, to some extent, hideous, though have a design that is both recognisable and new, combining the bobble-headed, long fingered physiology of the aliens in
Close Encounters of the Third Kind,
with short legs and brown skin, E.T. definitely has the appearance of an alien whose job involves collecting dirt and plants. Due to E.T. lack of communication ability, most of what is known about them is seen through their design and actions. Though they are obviously smart and somewhat powerful -- being able to make objects float, heal wounds -- E.T. does not have the appearance of a powerful and high standing individual, as despite their abilities, they are incredibly clumsy. We see on the spaceship another alien, who calls back the other aliens when it's time to leave, suggesting some kind of hierarchy. It is fair to assume that back on their planet, there are other aliens built very differently, who are responsible with the building of ships and other objects, while E.T. is simply some kind of collector.
E.T. is still an immensely popular film to this day, loved by those who experienced it upon release as much as those who saw it much later. A sci-fi film made about children, for children, that works as a family film, as it has something any family member could relate to.
""E.T. The Extra-Terrestrial" is a reminder of what movies are for. Most movies are not for any one thing, of course. Some are to make us think, some to make us feel, some to take us away from our problems, some to help us examine them. What is enchanting about "E.T." is that, in some measure, it does all of those things." (Ebert, 2002).
Images:
Figure 1. E.T. poster. (1982) [poster] At: http://www.moviepostershop.com/et--the-extra-terrestrial-movie-poster-1982 (Accessed on: 01.03.16)
Figure 2. Family dinner. (1982) From: E.T. The Extra-Terrestrial. Directed by: Steven Spielberg [Film still] United States: Universal Studios. At: http://film-grab.com/2013/02/17/e-t-the-extra-terrestrial/ (Accessed on: 21.02.16)
Figure 3. Goodbyes.
(1982) From:
E.T. The Extra-Terrestrial
. Directed by: Steven Spielberg [Film still] United States: Universal Studios. At: http://film-grab.com/2013/02/17/e-t-the-extra-terrestrial/
(Accessed on: 21.02.16)
Figure 4. E.T. dressed up.
(1982) From:
E.T. The Extra-Terrestrial
. Directed by: Steven Spielberg [Film still] United States: Universal Studios. At: http://film-grab.com/2013/02/17/e-t-the-extra-terrestrial/
(Accessed on: 21.02.16)
Bibliography:
Ebert, R (2002) 'E.T. THE EXTRA-TERRESTRIAL' In: RogerEbert.com 22.03.2002 [online] At: http://www.rogerebert.com/reviews/et-the-extra-terrestrial-2002 (
Accessed on: 01.03.16)
Lee, M (2002) 'E.T. the Extra-Terrestrial, review: 'redefined popular sci-fi'' In: The Telegraph 28.12.2014 [online] At: http://www.telegraph.co.uk/culture/11310774/Must-have-movie-ET-The-Extra-Terrestrial-1982.html (
Accessed on: 01.03.16)
Canby, V (1982) 'E T The Extra Terrestrial (1982)
'E.T.,' FANTASY FROM SPIELBERG' In: The New York Times 11.06.1982 [online] At: http://www.nytimes.com/movie/review?res=9C0DEFDB143BF932A25755C0A964948260 (
Accessed on: 01.03.16)